9 October, 2017
The Raincoats in Ethiopia
As earlier reported the Raincoat Foundation have dedicated funds to the charity organisation Charity Water and their initiative to help the people across Tigray, Ethiopia with fresh water from new drills.
So far Charity Water has raised $62,448,628. Money which they hope will serve approximately 102,753 more people across Tigray, Ethiopia through 485 water projects in this grant.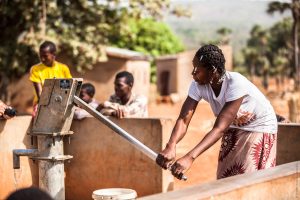 The Raincoat Foundation investment, which is part of grant number 222, is currently working to bring life's most basic need to an entire community of over 200 people in Tigray, Ethiopia which we find is fantastic news. We are excited to help and we are looking forward to the first update of our sponsored project during the summer of 2018.
This is what the Raincoat and other donors are founding:
100% goes to water project costs on the ground.
50% for materials: cement, pipes, pumps, construction supplies, training materials.
20% for local staff costs: drillers, welders, well technicians and hydrogeologists.
10% for mobilization: fuel, vehicles, lodging for drill crews in remote areas.
20% for in-country program support: accountants, drivers, computers, internet.